PGM golf Elegant Putting Green
$278.99
【PRODUCT INCLUDE】:1 putting green (119x30 inch )+ 3 golf ball
【LENGTHEN ELEGANT DESIGN 2 PRACTICE PATTERN】: Make your practice more interesting and save your time and headache of ball collecting.
【SIMULATING 2 Color GRASS TURF】: Simulate putting fairway from a real grass for two color. Easy to clean and dry itself quickly.
【THICKER & HEAVIER EVA BASE】:Offer you more comfortable putting feeling and rolling it up to store.
【EASY TO STROE & PLAY ANYWHERE/ANYTIME】:Easy to assemble within 1 mins without any tool.
NOTE: FREE SHIPPING, 180 DAYS WARRANTY,MONEY-BLACK GUARANTEE
Delivery Time: 5-8days(Shipping to all states in the continental U.S.(excluding Hawaii, Alaska, and U.S. protectorates)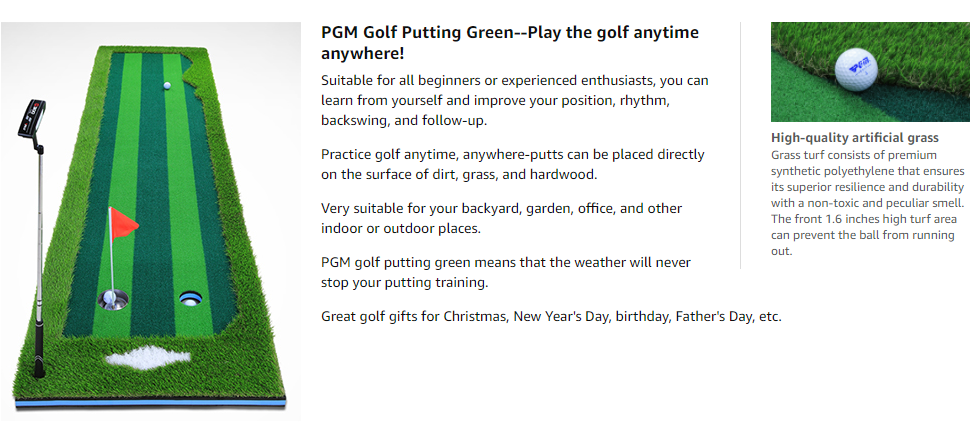 【LENGTHEN ELEGANT DESIGN 2 PRACTICE PATTERN】

:

119x30in putting green with 1.6'' thicker authentic slope. 3.1" diameter hole with stainless steel cup,which is easier pattern and will produce sound when ball in it. Smaller 2.3" diameter hole,and white line of sight for its difficulty raise.2 level training pattern get you no bore.Artificial grass baffle round not only show elegant design,but also limit balls in green area from any position of mat, saving your time and headache of ball collecting
【SIMULATING 2 Color GRASS TURF】

:

0.3" height with high-density artificial grass putting mat turf is simulating real-life golf fairway with 90% similar reading in home and office. 2 color Grass turf more beautiful design is consisted of premium synthetic polyethylene that ensure its superior resilience & durability with no peculiar smell. Drainage hole turf design is easy to clean and dry quickly. No unnatural bumps, grains or breaks. Grass will not color-fading and drop off, no headache of dirty
【THICKER & HEAVIER EVA BASE】

:N

ot like other similar putting mat with only sponge base, our perfect practice putting green use sponge in middle layer & use thicker EVA as basic. EVA base is more heavy duty than others and offer you more comfortable putting feeling. EVA is water-proof & it prevent deformation of base and mat. Beside, EVA base is anti-sliding, you don't have to worry about mat sliding when you training. Sponge + EVA base make it soft enough to roll it up to store without crease
【EASY TO STROE & PLAY ANYWHERE/ANYTIME】

:

Easy to assemble within 1 mins without any tool. Get rid of weather and time limit to enjoy golf game. Our putting greens is UV resistant, flame retarded, and waterproof. You can enjoy this interesting game with indoor area like: living room, corridor, hallway,lobby, study, office, balcony etc; Or outdoor area like: back yard, garden, park, camp etc. Good golf gift for family time or party
【保修】

如果您

在购买后 365 天内使用我们的 PGM 高尔夫草坪练习垫时遇到质量问题,我们愿意尽力为您提供解决方案,让您满意。

当您遇到质量问题时,请先与我们联系,然后再进行评分。

通过 PGM 高尔夫走廊训练果岭获得您的高尔夫频道,它也是适合室内和室外使用的完美高尔夫练习礼物。

 注:产品包括果岭 + 3 个高尔夫球。